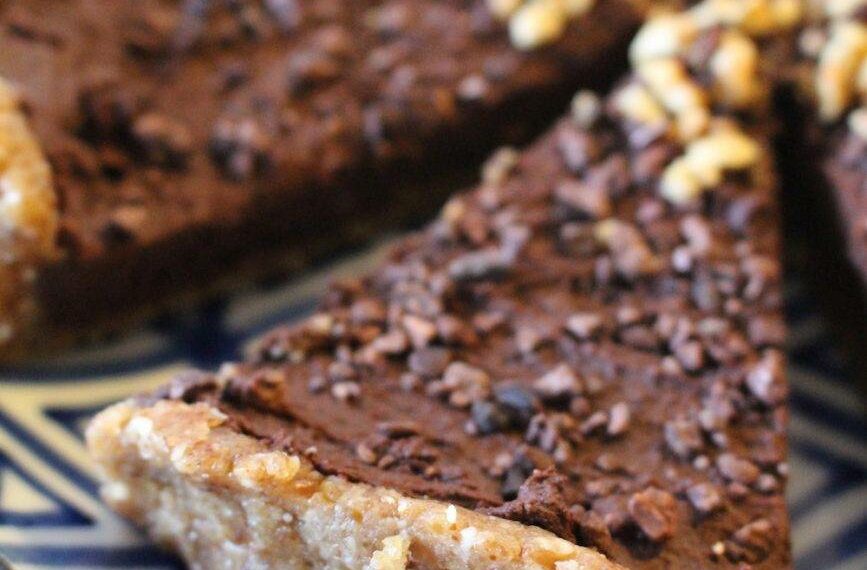 Raw Chocolate Orange Tart
An incredibly rich dessert with the perfect combination of orange and chocolate!
Happy sprouting, baking and cooking!
x Danielle
How to put this all together:
Pop the dates and almonds into a food processor and blend for 1 minute, until you have a fine crumb.
Add the coconut oil and blend again for a few seconds.
Tip contents into a tart tin and using your fingers press the mixture into the bottom of the tart tin and up along the sides.
Pop into the fridge to set while you prepare the filling.
Pop the cashew nuts into the same food processor and blend this for 5 minutes until you have a smooth butter.
You may need to stop the blender and scrape down the sides and then continue to blend.
Add the coconut oil and blend for another 15 seconds.
Pour this mixture into a large bowl and add the maple syrup, cacao powder, salt and orange zest.
Mix gently until all of the ingredients have combined and you have a smooth and glossy mixture.
Remove the tart tin from the fridge and gently pour the mixture into the tin. Pop back into the fridge to set for 1 hour.
Before serving sprinkle some more orange zest over the top along with some cacao nibs.
This is an incredibly rich dessert so slice this tart thinly and enjoy!
This needs to be stored in the fridge otherwise the filling will soften and melt.
Ingredients for the crust:
100g medjool dates
150g activated or roasted almonds
3 tbs coconut oil
Ingredients for the filling:
140g cashew nuts
180g coconut oil
140g maple syrup
120g cacao powder
pinch of salt
zest of 1 orange
Handful of cacao nibs